When last we met...James and I went to Ikea last Saturday and bought two 31" wide Billy bookcases with the height extensions. We had emptied the old bookcases, piling the books haphazardly nearby, and moved the shelves out to the hallway temporarily—since he was working this weekend—for transport to Goodwill
next
weekend, vacuumed the space, then we put together the new bookcases and put them in place.
At 10:30 this morning, after eating breakfast during an episode of
Wishbone
(how appropriate!), I trucked downstairs. The "reloading" took awhile because I wanted to categorize the books, so I had to pick through them as I reshelved. I started with a bottom shelf of oversized books of every persuasion, including James' big
Buck Rogers in the 24th Century
strip compilation volume, and another bottom shelf of full-color heavy paper aircraft magazines. There are also three shelves of books about airplanes, one of paperback books about aviation during World War II, then hardback books about World War II aviation, a shelf just of World War II, a shelf of military-type books (including Tom Clancy's nonfiction), a shelf of books about Vietnam and Korea, a shelf of science fiction oriented nonfiction, a miscellaneous shelf which includes medieval books, and a shelf of rocketry/space/modeling books.
We managed to collect, before they quit making them, a black tower unit that is 12 inches wide. Presently it was beside to the two oak bookcases that I hate, next to the door opening into the room. But when we buy the next two Billy units to replace the oak bookcases, the three units next to each other will not fit and allow the door to open all the way back to the doorstop.
So I emptied the tower unit and "walked" it across the room; it fit just right between the side of the Billy and the window ledge. Then I reshelved most of what was in there: things like the Red Cross survival manual and other books about dealing with crisis, the money management/smart shopping books, etc. I had some nonfiction books about children's literature that I had stored there, too, but I put these on top of the bookcases with the
St. Nicholas
volumes.
Here are the two Billy bookcases and the tower: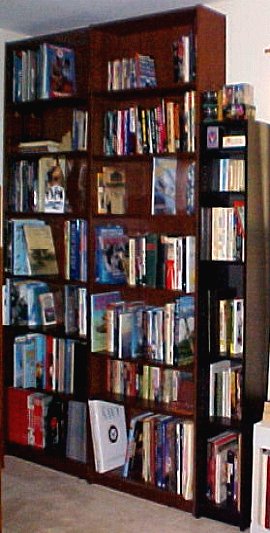 Would you believe all those books in the Billys were in two of these?: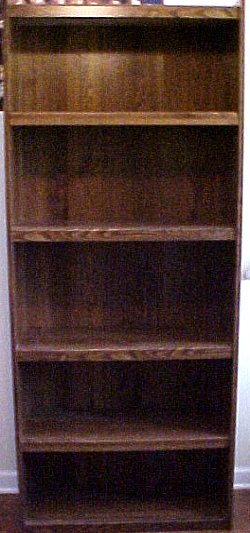 While I was down there I also rearranged the shelves
in
the
St. Nicholas
bookcase (in part to show off the beautiful St. Nicholas statue my cousin Deanna made for my mom and who now "guards" the magazines), and rearranged the Christmas/seasonal books. Then I started emptying out the oak-finished bookcases, but only managed one before Mr. Stomach started to growl. I'd worked down there nearly six hours on a cup of latte yogurt, a glass of milk, and one of those Special K protein bars.
St. Nicholas guards
St. Nicholas
:

Half the "icky oak" bookcases emptied: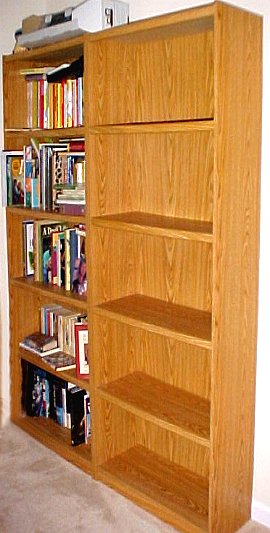 When I got upstairs to have some more milk and a SlimFast meal bar, there on
Design on a Dime
they were re-doing a couple's library! Came out too cool, too! (But we have more books...LOL.)
[Update: 6 p.m. James is home with Boston Market chicken. After
Design on a Dime
I emptied the other oak bookcase and vacuumed again.]
Labels: books, bookshelves, library