From all of us here at "Autumn Hollow"! Check out our photos!
No, it only looks like we are advertising for KMart. :-)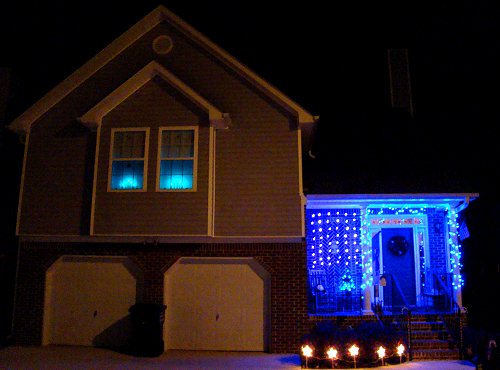 Our miniatures tree in the foyer, with a Peanuts nativity and train underneath—oh, and that moose and squirrel: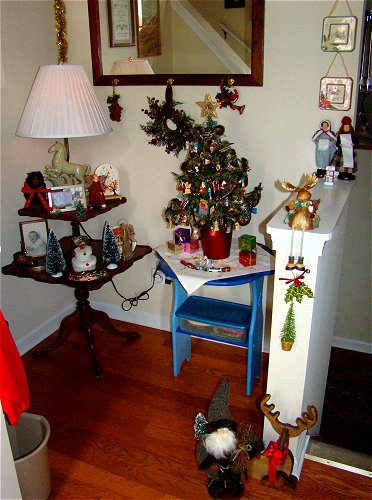 The dining room:
The ceppo on the china cabinet shelf, flanked by the Santa collection on either side: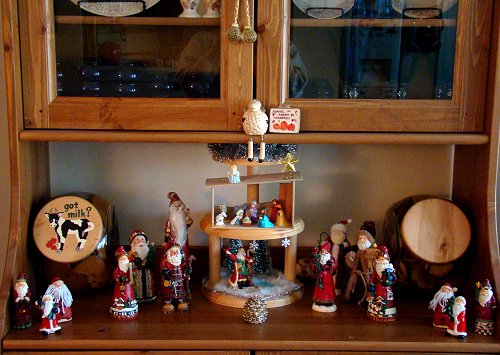 I decided to put the feather tree upstairs this year; it goes so well on the curio shelf: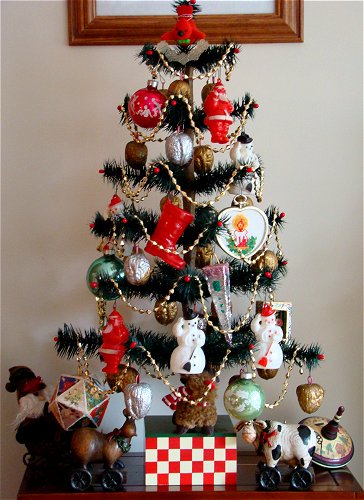 Some closeups of the 1950s snowmen and Santas, a 1950s skater ornament, those gilded walnuts I made as a teenager, and an ornament I made as a child: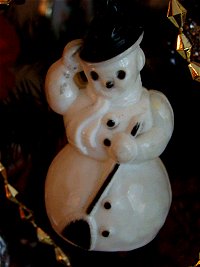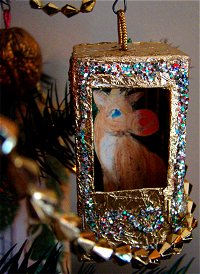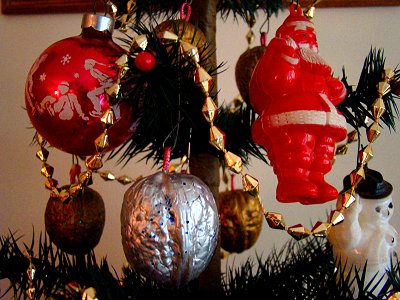 Even the cart serving as a stand for the mixer (and other things) gets a Yuletide remake: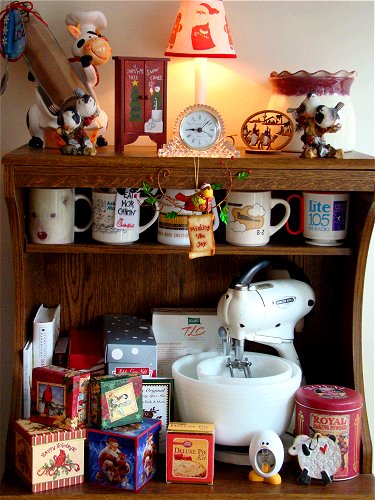 The primitive blocks and other ornaments I bought at the Apple Annie craft fair (including the winged "Holy Cow" in front):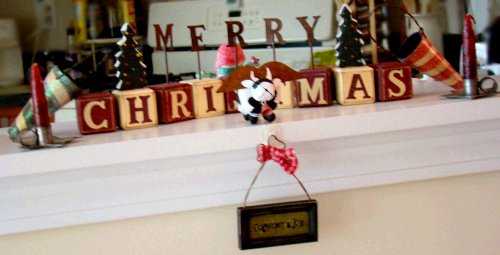 I saw these decorations and wanted to do a simple vignette; I love the way this came out!: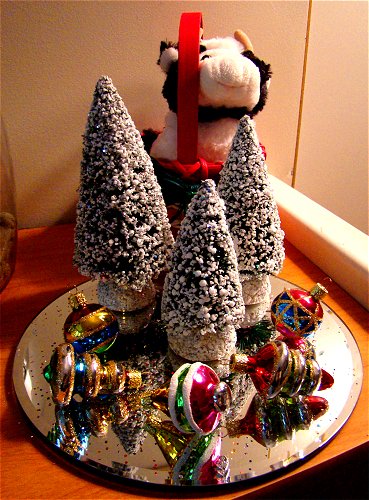 The Christmas tree, with manger set below: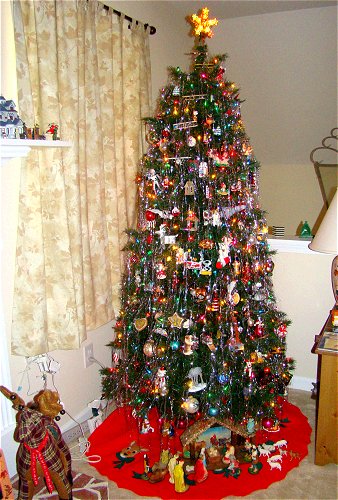 Click
here
for a larger tree photo (very large).
Here is the manger set that I grew up with; some of the statues are ceramic, but the newer sheep are of plastic, and the three camels and one of the sheep are of rubber and stuffed with tissues! These figures could be bought from large bins at one time, in Woolworths or Grants or Kresges: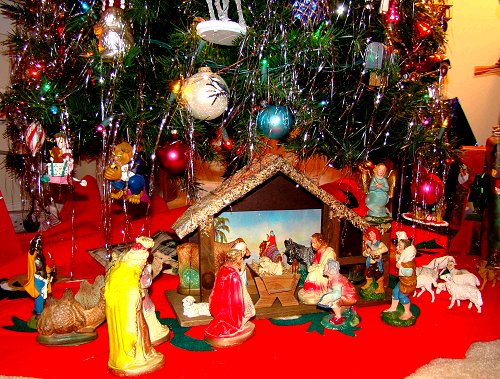 You can see the chips on the oldest figures: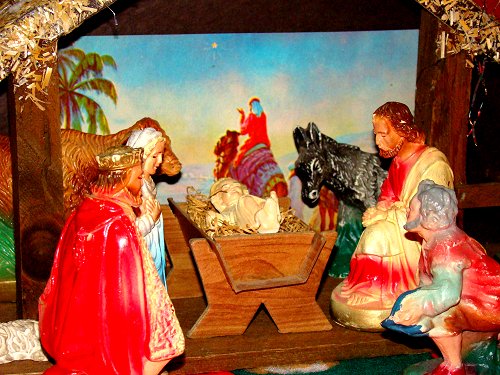 With just the lights: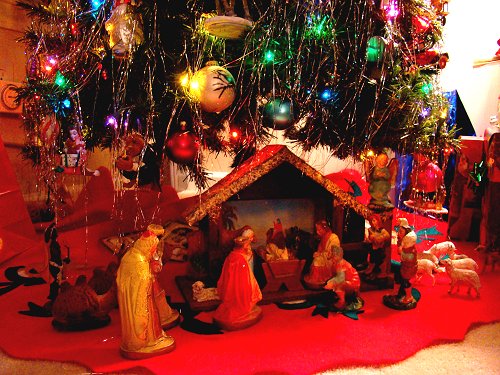 The 1940s Christmas village on the mantel from the left: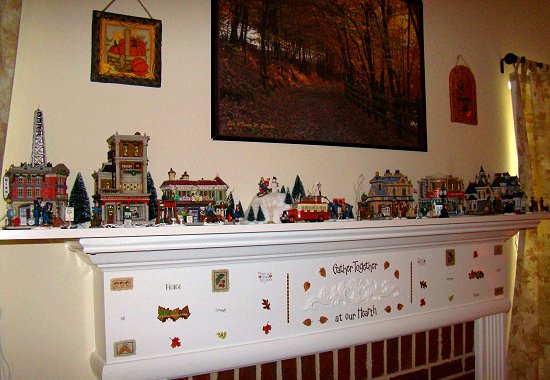 And the right: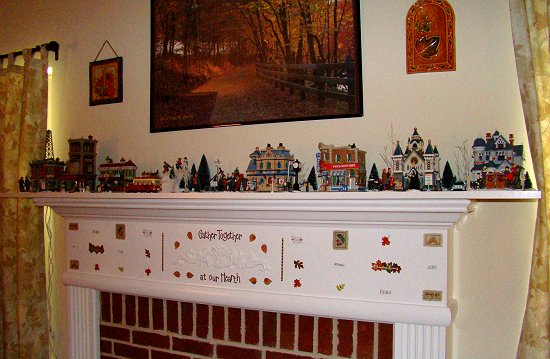 The individual buildings:
radio station WENN
(looks like the local cops have been visiting the Buttery downstairs; notice the special appearance!), the lovely
Woolworths building
,
the grocer
shoveling his sidewalk,
the bus passing "Suicide Hill"
(looking at the slope, you know where it's gotten that name),
the Christmas tree seller
waves as the bus drives past,
outside the post office
the mailman distributes some goodies, a boy leaves
the hobby shop
with a new model plane, parishoners enjoy a concert outside
St. Luke's
while in the rear, Father quietly reads, and
a soldier greets his girl
, having just come in on the bus.
Downstairs in the library, a cozy Christmas reading spot: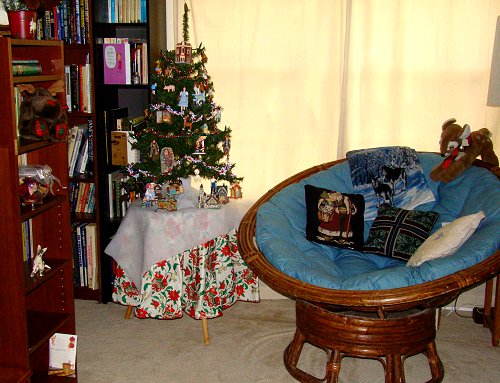 The library tree, with its literary ornaments: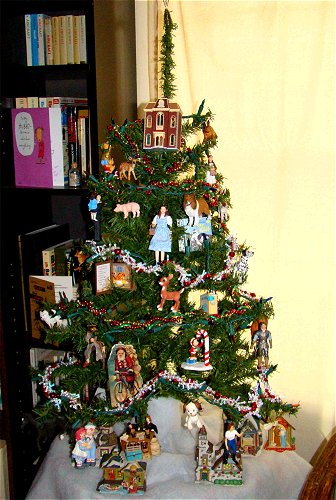 In the other house, we had no room for a village, so I created this vignette, "Christmas at the Lighthouse":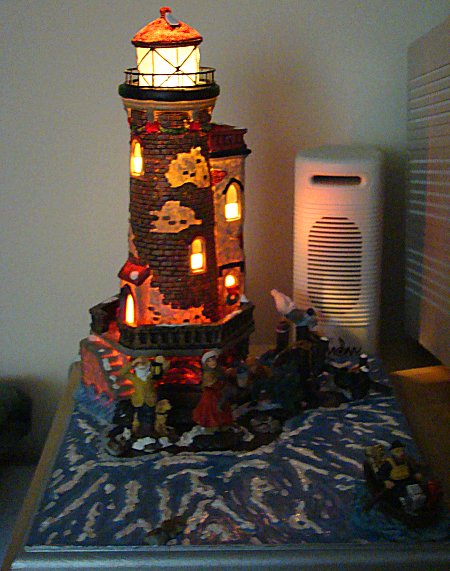 Nothing special to anyone else, but special to me: my mom's mixing dish for baking cookies. It probably came from the Outlet or Shepards or maybe even Woolworths in the 1950s and is labeled simply "Made in Czechoslovakia."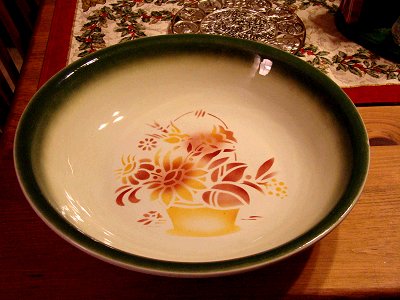 After being used to mix the wine biscuits, it's now filled with them: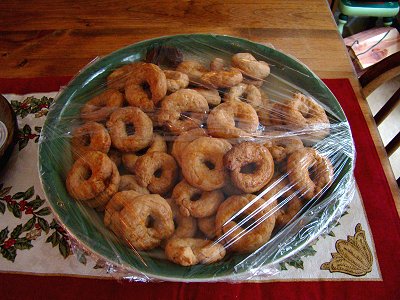 And just because—Willow: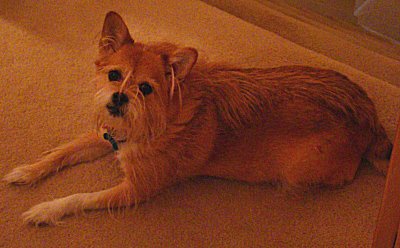 And Schuyler: