Our garden statue menagerie. I think this is enough.
They mostly have literary names, but there are a couple of media entries: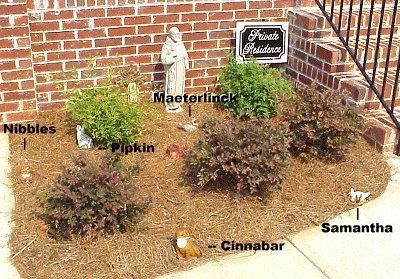 Nibbles is the hero of Elizabeth Taylor's charming memoir about her pet chipmunk,
Nibbles and Me
. Maeterlinck...what else would you name a bluebird? Cinnabar is from Marguerite Henry's
Cinnabar: the One O'Clock Fox
. Samantha is from
Friendly Persuasion
. Pipkin is from
Watership Down
.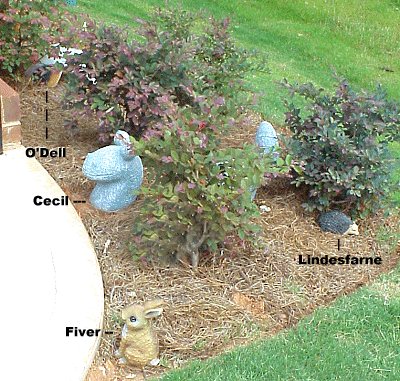 Yes, of course the sea monster is Cecil, as in
Beany and...
. Lindesfarne is from the comic strip
Kevin and Kell
. Fiver also from
Watership Down
.
You can't see O'Dell too well. It's a cute resin statue of a Jack Russell terrier burrowing. Since he's a digging dog, I named him after the character on
The Life of Riley
radio series, "Digger" O'Dell.