We had nowhere to go today.
Usually on Sunday there's some sort of errand: milk we didn't buy over the weekend, a coupon or two going a-begging. But nothing today! James did run out to get a double paper deal and some batteries, but that was just a short trip to the Food Depot.
So during the afternoon we installed the airplane lamp James's mom, sister and niece got him for Christmas. They had thought he would put it in his room, but he wants a ceiling fan down there eventually, so we put it into the hall. Yes, it will be a bit of a "low bridge." Beware in our downstairs hall, anyone taller than James.
This was taken from the foyer, hence the jacket on the right, and that's the laundry room door in the background.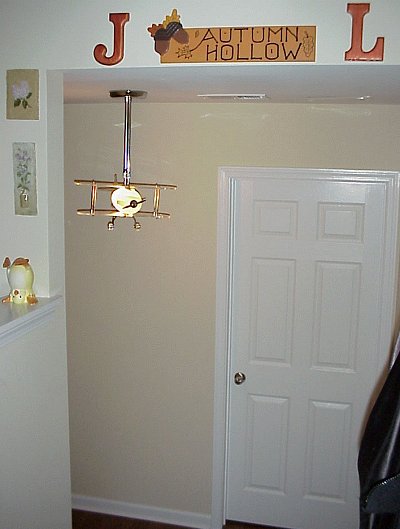 This is the lamp from in front of the laundry room, with the "rocket garden" in the background. This is what James did after he hung the lamp. The door in the background is the coat closet (and, wow, yes there are actually coats in there rather than Christmas decorations!) and the print is of Spitfires coming in for a landing during the Battle of Britain. The other doorframe you see at the right edge is for the door to the garage.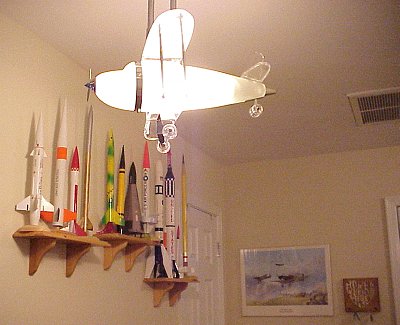 We also permanently hung up the
Wizard of Speed and Time
poster and a smaller
Battle of Britain
poster over the coat rack, but I didn't take a photo because I haven't restored the
America
poster yet to put up there, so it's not complete.