I worked on the poster tonight. It was in pretty bad shape: frayed at the edges, bent, tears in the middle, and a couple of bits taken out. It had started out at a disadvantage in the first place—it had been folded when it was delivered—and several years taped to my bedroom wall and then more time in the attic sticking to an oil painting made it worse.
Well, here's the result (it's dark because if I raise the light levels any the room reflects in the plastic "glass" over the poster). It looks about 500 percent better, although if you get close you can see where my markers didn't actually match most of the colors, some of the tear edges, and the creases. Ah, well...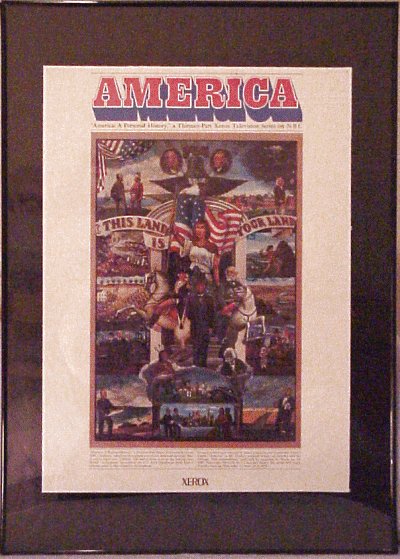 I didn't realize until I looked at the back where I had gotten this so long ago: it had been folded and mailed to my eleventh-grade history teacher and I had asked him if I could have it.
So if you're still out there, Mr. Stone, thanks!