Remember this?
The last time you saw the library on March 12, this is how it looked: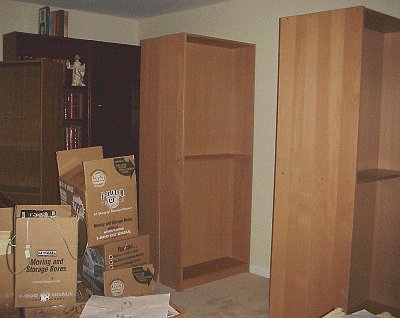 The side you didn't see was still full of boxes—a week before that it had been a challenging tangle: one side full of eleven bookcases of varying sizes stacked against one wall, the rest of the room piled with boxes, and boxes, and boxes (not sure of the count, probably around one hundred).
Now that one side looks like this: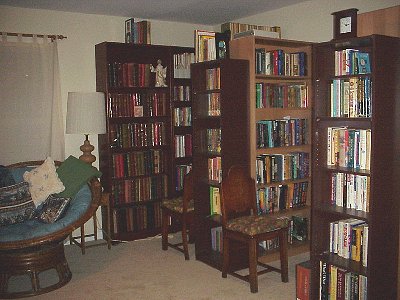 The two straight-backed chairs you see were my grandmother's.
I think the APAzines will just stay in boxes until we decide what to do with them. The records will stay boxed until we have a shelf or place for them. The artwork, now still in a box, will go into the foyer.
This looks so nice, even now, that it makes me want to cry. I always wanted a library, a real library, like Ward Cleaver had in
Leave It To Beaver
, since I was knee-high to that proverbial grasshopper. Although my dad only read the newspaper, Mom had been a voracious reader in her youth—her favorites were Zane Grey and Kathleen Norris—and while I don't remember her reading to me, I know she did. I had little books bought from Woolworth's from the time I was tiny and a World Book Encyclopedia by the time I was seven. On the occasional times when Mom would go downtown on her own and I would stay next door with my godmother's mother, she would return and I would say not "What did you bring me?" but "Did you bring me a book?" There were never enough books, and never enough room for the books I had. They were stuffed under my night table (neatly, because my bedroom was off the kitchen and Mom would have insisted anyway), in drawers, occasionally in the attic, and, after Daddy fixed the cellar, down there in bookcases he made for me: my old Whitman novels and later my Doubleday bookclub books and my beloved paperbacks, including all the
Get Smart
novels.
Plus I was at the school library every Friday, taking out the limit, whether it be old favorites or new finds, getting "high" not on pot but on the sweet scent of bookprint, which still beckons—bookstores have the scent of perfume to me.
When I was finally married (luckily to someone who was as book-friendly as I was) and we moved into a house, we turned the living room into a library. It overflowed, even though we had two sets of bookcases back to back on two different walls. James had his paperbacks in his hobby room; there was nowhere for mine to go but in our bedroom. There were bookcases in the spare room, a rack for books in the downstairs bath, media books and new books and computer books in the den, small cookbooks on shelves in the kitchen, a low book rack in the master bath, craft books in the laundry room...
But I still longed for that dedicated library.
And now thanks to Mom's final gift that dream has come true, and I can come down any time I like and savor, or even tarry awhile.
(Oh, there will still be books all over the house. <g> The media books are still upstairs, near the television where they need to be, as are the computer books—over the computer, of course. We each have a small personal bookcase in our bedroom. My fanzines are in my craft room—the craft books are already there—and there are some
Reader's Digest
condensed books in the guest room and some trivia-type books in the master bath [for "inavoidable delay," as Frank Gilbreth put it]. Cookbooks on the "Expedit" wall divider in the dining room. But that's us.)