or "Look, Ma, Drywall!" or "This Mess Is a House."
We visited the house before we went out to Stone Mountain for the ARTC Christmas show, but couldn't go inside: the work crew was out! Boy, the builder really does want to be out of here by spring; he's paying a crew for Sunday work.
As you can see, the siding was going up, and if you peek in the front door (I upped the brightness in the doorway), you can see the drywall is up as well. The siding was finished by the time we got back; the front will be all brickwork. The bricks were already standing by.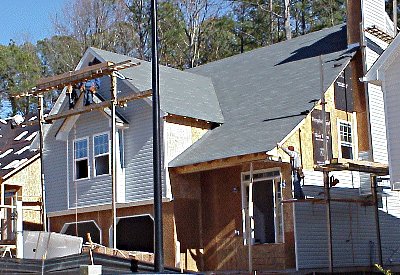 By the time we got back from the radio show the sun had just dipped under the horizon. The work crew was just cleaning up and the scaffolding was set up to put the bricks on. We managed to get around it and enter through the garage.
Thank God for flash equipment. This mess will be the bedroom. You can see the tub in the master bath beyond (and yes, they put in a new tub; this one has the jets and the sides are a bit different—it's made so you can lie in it; my arthritic shoulder will love it).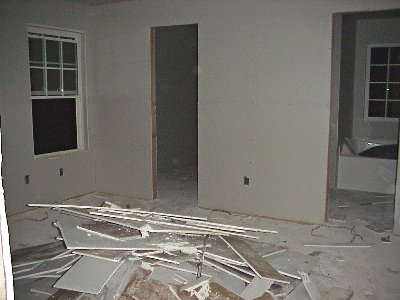 Here's James keeping company with the drywall debris in the living room.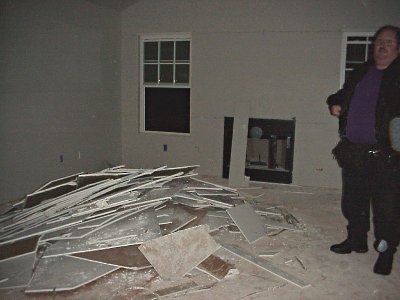 One of these rooms will be a comfy guest room with books, a television/VCR/DVD, the other will be a craft room. (Yay, no more doing painting projects on a wax paper covered coffee table.)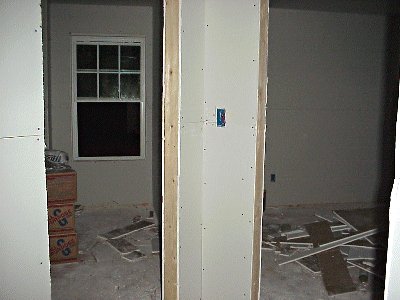 Here's the dining room and the kitchen—don't go out the door; that first step is a doozy.
They leveled out at the back of the house in prep for the deck to go up, and there's a little bulldozer parked there now.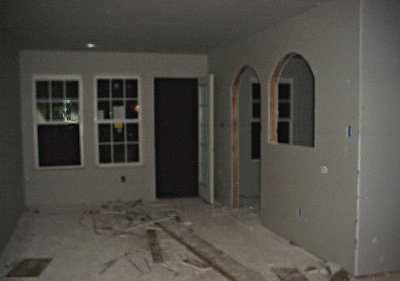 I told James that it seemed funny, but it looks larger with the drywall on than open with the studs. He said it was the reflective factor; the walls are light and bright now. Odd, but it works.