We have bed. We have a medicine cabinet and mirrors in the master bath. And the main bathroom is set up for visitors. We worked from just before one o'clock until eight. Boy, did that pizza for supper taste good! (Papa John's found us. Yay!)
Here's the Leksvik with just the mattress and box spring in it: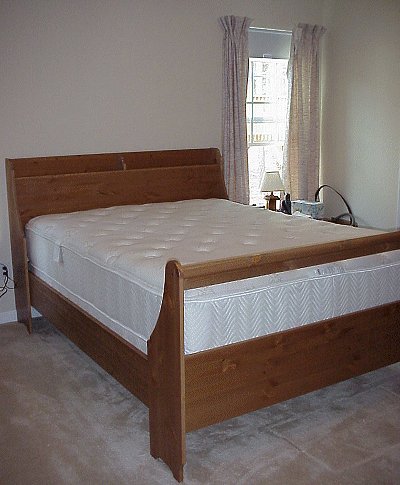 Michael takes advantage of the pillows in the finished version, with our blanket chest in front.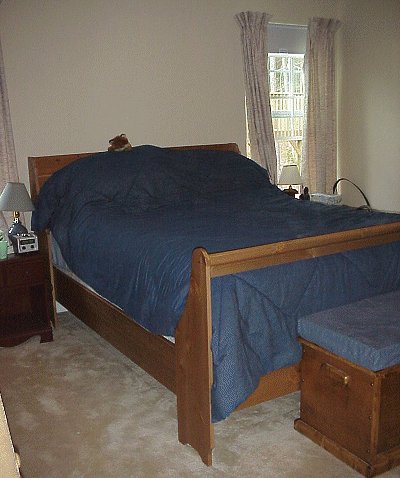 Here's the master bathroom vanity, looking much better. The medicines have their own little shelves. The cabinet is handmade—we bought it at the Yellow Daisy Festival several years ago from a man from Alabama. We bought our table and chairs from him, too. Unfortunately he hasn't shown up for the past two years. The mirrors flanking the cabinet are from Ikea; aren't they cute? The little shelf at the bottom just swings down.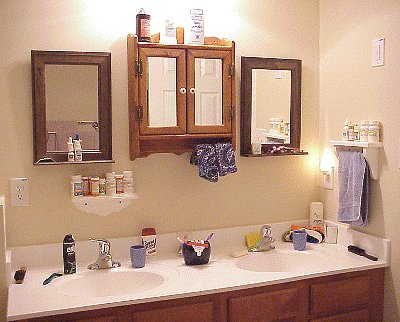 Here's the sea/lighthouse theme main bathroom: