(Reprinted and edited from "Yet Another Journal," October 3.)
That's us. (Thank you, Mr. Dickinson.)
We put down earnest money on the house today. Very scary proposition. But I want it to be done. This is a very, very rare housing complex that stays in our price range and is not out in Paulding County or beyond. I already have a 40-minute commute on a good traffic day; it's been known to go to ninety minutes or two hours on Thursdays or days before holidays. Another thirty minutes would be simply too much.
This is a leap of faith. We do not yet have the money for the upgrades we want (mostly the hardwood flooring). We'll need it before the house is framed. In a pinch we can just get the things we really need: the extra phone jack in the living room for the computers, the fixtures for ceiling fans, the deadbolt locks, the outside vent for the range, the extra electrical plug in the laundry room for a chest freezer, the hardwood stairs. And the other thing we don't need but do want: the jets in the tub. (The master bath has a separate shower and "garden tub." The only person who takes a bath rather than a shower in the house is Willow. If we leave the tub as is, it might as well be a planter. Besides, we're both getting older and we both have arthritis. There are days I've come home from being crouched up in the lousy chair I'm stuck with at work cramped up like Quasimodo.) Then we can pick a carpet color we can live with and have Lowe's or Ikea do a floor later.
Of course the sale is contingent upon the sale of my mother's house.
I keep thinking of Mrs. Brown's line in
National Velvet
: "I too believe that everyone should have a chance at a breathtaking piece of folly once in his life."
Anyway, here's what it will look like, except James doesn't want the yellow. We did look at some of the siding colors and got disappointed, since they discontinued the nice smoky sea blue we wanted. We'll probably get the grey. Oh, well, I'm used to grey. Our house was a dark grey during most of my formative years, so to me it's a nice welcoming color.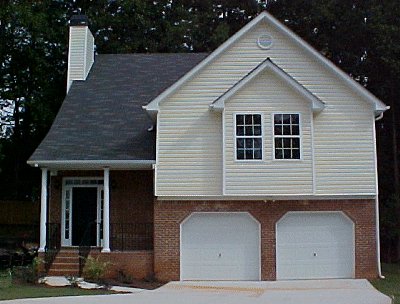 All the Dubois models going up are set up the same way as this one, with the front door on the left and the garage on the right. I'm assuming they'll all be built this way. However, the floor plans below are flipped.
Upstairs:
and down:
Right now, though, the lot we picked (number 13), looks like this: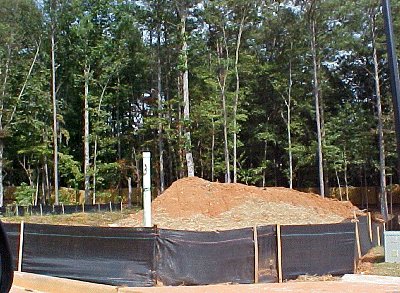 We were up very, very late unable to sleep, talking. There are lots of reasons to move: our street is a cut-through between two main roads and there are constantly speeding cars rushing through the neighborhood. It's become a rental community. I'm tired of the feral cats, which Animal Control refuses to come collect—they kill the birds at our feeder. I'm tired of the all-night parties (and the occasional gunshots) from the apartment complex behind us, and the people tossing trash in our back yard. (One of the times I went out there to rake this spring I found a wad of what looked like toilet paper. It was toilet paper: someone had scooped up their dog's poop and tossed it into our yard.) And the mosquitoes and palmetto bugs almost year round from the creek. (We had a big winged palmetto bug come blundering through the den last night; at first glance it looked half the size of Pidge. Willow killed it for us. Good dog!) And the ants. (The ants will have to work damn hard to get into the kitchen of the new house: it's on the second floor.)
But part of it is that I keep bumping into ghosts upstairs. I can't go into the hall bath anymore without looking in that mirror and remembering my mom looking at herself in it: at that horrible ugly black growth taking over the right side of her face and the swollen right eye and the bald, scarred head from numerous surgeries and radiation. She always took such good care of her face and skin. She wasn't vain about it, but every night she rubbed Deep Magic on her face to keep it soft and supple. Before she was sick people didn't believe she was that old, because she kept her face nice. She always took her medicines promptly and properly and took care of herself. How terrible was it for her to look at herself in the mirror those last few days and see an ambulatory skeleton? Especially with the fiction we'd concocted to get her to Georgia: that it would be a nice vacation and it might make her feel better.
It's almost as painful to go into the spare bedroom. But at least when I go in there I don't see that sad face staring back at me through a mirror.