I took off early yesterday because the construction company was coming by to fix a few things that had gone wrong or were "off."
The simplest problem to fix was the space over the bathroom door that still had a bit of blue tape on it; it had not been "spot painted" before we moved in. We also had a railing on the deck that was curling up. It was fastened down with James's favorites, three-inch deck screws.
One of the rollers on the garage door of the bay that I use kept falling off its track because the track had been installed too far out and the roller was extending too far. The track was moved in.
There was also an uprooted stump in the back yard which they had promised to remove before we moved in. They took it away.
The last repair was the most complicated: the Wednesday before Labor Day was the last time I had used the garbage disposal and it had worked fine. We ate out on Thursday and were not home for meals Friday through Monday inclusive due to DragonCon. On Tuesday when James tried to use the disposal it didn't work. When he clicked the reset button, all it did was hum.
The repairman figured we had dropped something down it, but could find absolutely nothing that didn't belong there. It was somehow jammed up so badly that he had to install a new one.
The one last thing that needed doing was the installation of the double-keyed deadbolt on the front door that we had paid for. They had not installed it previous to move in because there is a Georgia fire law that forbids the installation of a double-key deadbolt on a front door by a builder before the buyer moves in. They were scheduled to come this morning before James left, but apparently something was wrong with the lock and they had to put the old deadbolt back on for the time being. James was almost late for work and was pretty upset.
Anyway, I took the opportunity of being home to vaccuum and sweep and do all those other little monotonous housekeeping tasks, and then framed the prints we had brought home from A Blue Ribbon Affair. The Spitfire went downstairs to be hung at a later time, but I put up the other two.
Here's the fall countryside scene with the lighthouse in the distance: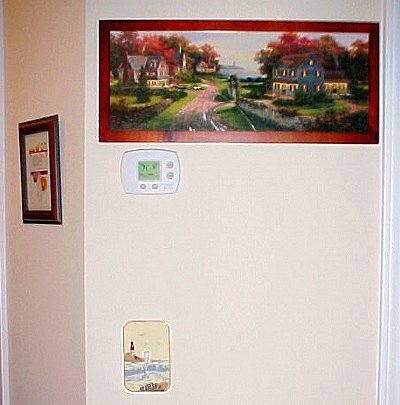 Opposite I have dressed the alcove for fall: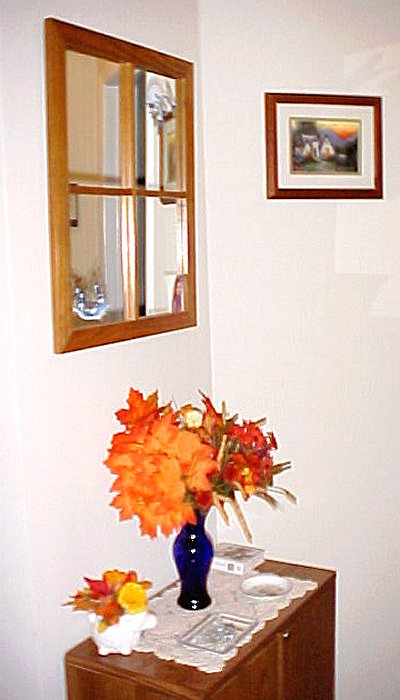 Down in the hall downstairs, just behind James' airplane light, I put up the larger fall painting along with the lovely tin vintage travel sign, next to the laundry room door with its wreath and sign: