While bopping from store-to-store with coupons, I stopped at Garden Ridge to give their fall village another look. We bought something called "Maple Sugar Shack" at Michael's last year, which was mixed in with the Christmas village stuff. I didn't realize LeMax also made a "harvest village."
A structure called Pine Mountain Cabin caught my eye as being "the most fall." They didn't have any more in boxes so I got the "floor model." It's cute: has "quilts" out to "air," cornstalks, even a canoe. I also got the last two fall trees and two sets of figures and a pickup truck loaded with pumpkins.
Warning: this is overexposed and blurry, darnit. If you click the photo there's a shot of the entire mantel, with the boys raking near the sugar shack, and our autumn ladies on either side of Mom's clock (and a home-made swag behind). The Pine Mountain building is actually cute: if you look through the window you can see a moose head over the fireplace, a shelf with flowers, a doorway to the kitchen, and a table set with fruit, all in miniature.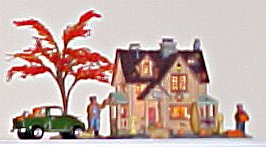 Also, I found this freestanding "curio shelf" ("shadowbox") in Cost Plus Warehouse. I've been looking for one for ages to hold my collie statue collection. This fits all of them except the five largest:
Yes, there are a pewter cat, a glass bluebird, and a clay terrier on the bottom shelf. :-)